Tom let me borrow the files for a couple of hours along with all that famous cold cop coffee I could stand. I had access to both the missing person file and a large file on the Drakes. The missing person report was straight forward. The timing of events line up with
Julia's
story. On her relationship with Jonathon, Tom did not know if there was anything beyond business but she was the type that he would go for. But then again, there are not many good looking women that Jonathon would not cast a line out to try to catch.
The Drake file was a tangled mess of information. Born into wealth and privilege, Sir Emery Wallace Drake studied at some of the finest universities in the world, and was regarded as a preeminent astronomer. He was even knighted by the Queen for his work with the Royal Academy of Science in Paris. However, fame fades fast, something he published a dozen years ago made him a laughing stock in proper scientific communities.
Shortly thereafter, committed himself to a six month stay at Arkham Asylum. People say it was the loss of face, the loss of wealth, or the general shunning of his company. He was no longer welcome in polite society and he withdrew even further into his studies and his work when he returned home. A widower, Drake had no one to watch over his son's escapades. Drake has grown stranger and more withdrawn, his voice and manners rusty from rarely talking with anyone outside of his staff, Samson and Claudette (the new housekeeper).
Jonathon Drake was an alcoholic, a gambler, and an accomplished degenerate, all by the age of nineteen. He attended the College of Charleston, where he met and fell in love with an exotic gypsy girl who worked in the Market Square, a girl who went by the name of Diamante. He has had an off an on relationship with her and a number of other woman. One of those other women is Claudette.
Claudette is an attractive lady in her early thirties, she came into the household's service at the insistence of Jonathan after Marianne Silvers, their former maid and cook, disappeared, nearly a fortnight ago. She was formerly a waitress and singer at the Copa Lounge on King Street, a place Jonathan frequented with great regularity.
Samson the Handyman is a hulking brute of Scandinavian descent, Samson is a superstitious man with pale white skin and piercing, translucent eyes. He is a devout Catholic who came into the service of Drake during one of the astronomer's Arctic expeditions to investigate the Northern Lights.
Bound by wetlands to the north, a forest to the south, and an inland waterway to the east, Drake Manor is a sprawling estate that is about twenty miles outside of the city proper. Roads are a mixture of gravel and dirt.
I asked Tom about getting out to the Manor. "Well, you can take a taxi. Another option is lease a car." He digs around his desk, "ah, here it is. If you go to them and give them my name, they will let you lease the car without the driver for a few extra dollars." He hands you a business card for a local company you can hire a driver.
"Be careful when you go out there. Samson is known to shoot before asking. Sir Drake is…odd at best. You might want to save yourself a frustrating trip. Jonathon, the closest one to a normal person, is here downtown all the time." He writes down an address and the names of 4 establishments. "The address is where he tends to park. The others are his hangouts, although he hits other places as well. When I am checking up on him, I check the 4 places and then stake out his car if I cannot find him. I would not look for him until about 10pm."
He pulls out a picture from the Drake file. "Here, this is a picture of Jonathon and some friends in his car. Plate number is N75."
I thanked Tom for the information and made a note of Jonathon's plate number. As I left the station, I checked my watch. I had a few more hours before it would get dark, so I decided to go get the car and head out to Drake Manor. I didn't think I was ready to talk to anyone there yet, but I wanted to at least drive by the place in the daylight to make sure I could find it.
As I headed to the car company, I spotted a Western Union. I figured I ought to let Julia know I had arrived. I briefly debated if I should tell her about the missing persons report. I didn't want to further alarm her, especially since I didn't have any real information. But in the end, I decided to play it straight.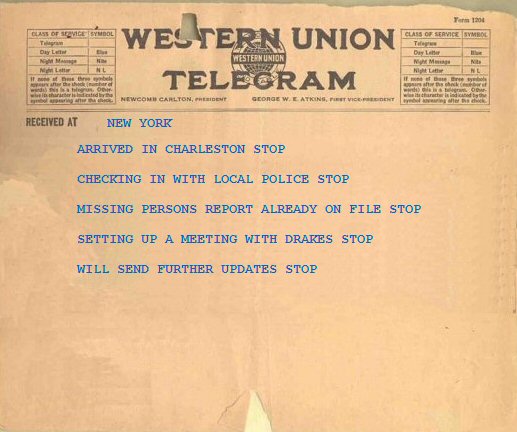 After I sent the telegram, I told the operator where I was staying in case there was a reply. I then rented the car and headed out to find Drake Manor.